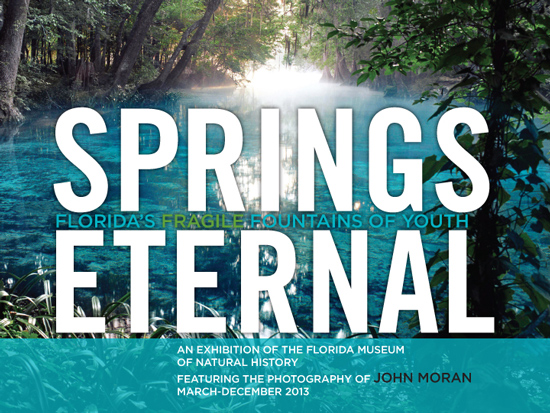 Springs Eternal:
Florida's Fragile Fountains of Youth
An Exhibition of the Florida Museum of Natural History,
open through December 15th, 2013

» See more pictures and read a complete project description HERE.
Florida is home to the world's largest and most impressive array of freshwater springs. Ichetucknee, Weeki Wachee, Rainbow, Wakulla and Silver—these "liquid bowls of light," in the words of writer Marjorie Stoneman Douglas, have lured explorers, investors, tourists, artists and nature-lovers since the time of the Timucua.
And yet, on the eve of the 500th anniversary of Ponce de Leon's arrival on his fabled search for the Fountain of Youth, Florida's springs are seriously imperiled—due to long-term rainfall deficit, groundwater overpumping, pollution and neglect.
Springs Eternal: Florida's Fragile Fountains of Youth pairs photos from my 30-year archive, and historical photos from state archives, with contemporary views to create a then-and-now narrative of Florida's springs and the changes we have seen. This exhibit is part of the larger Springs Eternal Project. Reaching beyond the museum walls, Lesley Gamble's Urban Aquifer bus project and SpringsEternalProject.org website will soon lend additional public engagement including a fleet of Regional Transit System buses to bring stunning visions of Florida's springs to the streets of Gainesville.
Pictures have a way of reaching people in ways that words alone cannot. This project seeks to inspire public participation in the increasingly urgent statewide conversation about the fundamental role of water in defining Florida's future.
We are seeking sponsor funding now to finance the Springs Eternal Project. Your contribution will support the production, materials, research and fieldwork expenses incurred in creating the Project. Donations of any amount are welcome and contributions will be acknowledged on a periodically-updated donor recognition panel on display with the exhibition at the Florida Museum of Natural History in Gainesville.
We need your support NOW.
DONATIONS by CHECK:
Payable to "ACT-Springs Eternal Project"
Mail to: Springs Eternal Project, c/o Alachua Conservation Trust
7204 SE CR 234, Gainesville, FL 32641
DONATIONS by CREDIT CARD:
PLEASE NOTE that donations by credit card are made through the ACT website on a page that says "Make a Donation to Alachua Conservation Trust". Fill out Gift Information, Contact Information, and – this is important – select Springs Eternal from the "Fund" drop-down menu at the top of the form. Donations can be made by credit card HERE.
Contributions are tax-deductible, under the umbrella of Alachua Conservation Trust, the project 501(c)(3) fiscal agent. Learn more about Alachua Conservation Trust HERE.
Thank you for your support of our project, which is a true labor of love. Feel free to contact us with your questions or comments.
John Moran, project director
JohnMoranPhoto@gmail.com
352.373.9718
— and —
Lesley Gamble, associate project director
lgamble@ufl.edu
352.374.4087
» See John's powerful speech to the St. Johns Riverkeeper Silver Springs Forum here.
» Check out a preview of John's then-and-now springs photographs, as published in the Tampa Bay Times here. 
» Watch John's rousing speech at the Silver River Rally here.