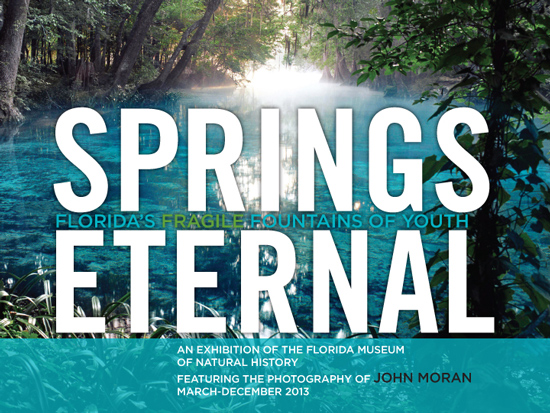 The Springs Eternal Exhibition runs through December 15, 2013 at the Florida Museum of Natural History in Gainesville. Springs Eternal: Florida's Fragile Fountains of Youth pairs photos from my 30-year archive, and historical photos from state archives, with contemporary views to create a then-and-now narrative of Florida's springs and the changes we have seen.
The Springs Eternal Exhibition is part of the larger Springs Eternal Project. Reaching beyond the museum walls, Lesley Gamble's Urban Aquifer bus project and SpringsEternalProject.org website will lend additional public engagement including a fleet of Regional Transit System buses to bring stunning visions of Florida's springs to the streets of Gainesville.
You can help support this project. See how here.
---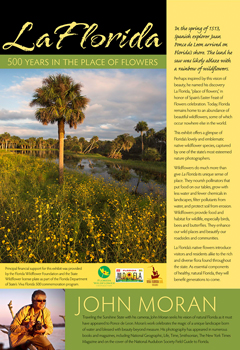 You can also experience this exhibit on-line here.
The La Florida: 500 Years in the Place of Flowers exhibit will tour the state until the end of 2014.
This exhibit features 16 images of Florida's lovely and emblematic native wildflower species. The exhibit is sponsored by the Florida Wildflower Foundation and the State Wildflower license plate as part of the the Florida Department of State's Viva Florida 500 commemoration program.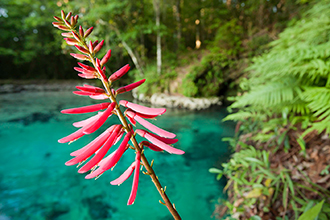 Coralbean, Erythrina herbacea, is among the showcased species.
La Florida Tour schedule
| | | |
| --- | --- | --- |
| March 25-July 5, 2013 | Harry P. Leu Gardens | 1920 N. Forest Ave., Orlando |
| July 15-Aug. 30, 2013 | Taylor County | Doctor's Memorial Hospital, Perry |
| Sept 9-Oct 25, 2013 | Jefferson County Arts Center | West Washington St., Monticello |
| Nov. 4-Dec. 20, 2013 | Collier County Public Library | 8065 Lely Cultural Parkway, Naples |
| Dec. 30, 2013-Feb. 14, 2014 | Okeechobee County Courthouse | 304 NW 2nd St., Okeechobee |
| Feb. 24-April 11, 2014 | Bok Tower Gardens | 1151 Tower Blvd., Lake Wales |
| April 20-Aug. 3, 2014 | Florida Museum of Natural History | University of Florida Gainesville |
| Aug. 10-Sept. 26, 2014 | Nassau County Public Library | 25 N. 4th St., Fernandina |
| Oct. 6-Dec. 31, 2014 | Division of Cultural Affairs, Gallery for Innovation and the Arts | 500 S. Bronough St., Tallahassee |
---
Public Speaking Programs
Journal of Light Program
I often take my Journal of Light speaking programs on the road. My programs offer a memorable look at a Florida seldom seen, and interweave adventure narrative, natural history, music and excellent photography. I also present my programs as a keynote speaker for the Florida convention industry. Please contact me directly if you would like to arrange for me to speak to your civic, professional, environmental or academic meeting. Learn more at the keynote speaking page of my website.